We offer our services to hire Magento developers on a full-time or part-time basis depending upon your requirement. Mageefy is one of the leading Magento based eCommerce providers with some of the best Magento developers in fulfilling your every requirement at a very cost-effective rate. Developers at Mageefy are proven with Magento's high standards and have in house Magento certifications for back-end and front-end technology. Our Certified Magento Developers are highly skilled, detail-oriented, wide knowledge of Magento development and have a proven track record of delivering high-end eCommerce websites, and possess the technical expertise to work on challenging requirements. Our developers always update clients with a constant touch over communication channels regarding the progress of project development. Our Magento developers understand the needs of clients to develop custom themes using the latest tools and industry best practices according to their specifications.
Our Magento developers perfectly blend knowledge and experience to produce tailored solutions, designed and developed especially for you. Our Magento developers are well informed in developing all kinds of Magento products and services ranging from the installation of module/plugins/extensions to the development of various Magento 2 extensions & themes, Magento 2 migration, Magento 2 web/speed optimization, Magento 2 payment gateway integration, Magento 2 API development and many more. Hire Magento 2 developer today on an hourly, weekly, monthly, part-time, full-time basis and accelerate your eCommerce growth. Our Magento Developer masters use agile methodology, standard coding, best practices to assure delivery of highly scalable Magento solutions best fit your requirements on a timely basis.
Our Hiring Models
Hourly Model
You pay the Magento developers based on the number of hours they work on your project
You can hire our expert based on the number of working hours
Rate includes the developer and project manager
Purchased hours can be utilized on as when required basis
Purchased hours can be utilized between development and designing jobs
Very useful in time of emergency support
Get regular Timesheet of hours used on task
You will be paying only for the efforts they put in and the hours they work for
This is the most cost-effective model, if the work will not last for more than a month or so
Time and Material
Best model for ongoing work and when scope is not fixed
This Model is appropriate for companies doing good business
This is used when the resources and time can't be estimated upfront, at the start
We always assign Magento Certified Developer in this model
Daily Timesheets with number of hours for Tasks
Periodic Reporting & Approvals
Project starts on preliminary specifications and further goes on
In the Time & Material model, it offers more flexibility both in terms of budget and project requirements
This model applicable while making plugins/extensions/modules or complicated task
Dedicated Developer
Working directly with your dedicated designer or developer
Model applicable for mid to large size company and agencies who wants to hire developer at cheaper rates
Developer will work as part of your team and you can assign the work according to your needs
Best suits long-term projects with changeable and undefined requirements
Dedicated Project Manager
A dedicated team has a great understanding of project and business objectives
Extended 24/7 Support & Maintenance
We Assign Certified Magento developers to you
Fixed Price Project
This model is well suited to clients who have well-structured process to gather requirements, scope, deliverable and acceptance criteria for the project
Proper specifications need to be delivered to us for the same
We will provide you fix price and timeline for completion of task
Fixed Price Model Project usually needs thorough planning & requirement analysis
No Hidden Costs
Dedicated Project Manager
On Time Delivery
6 Months of guarantee for any error on development done by us
Hire Dedicated Magento Developers for all your eCommerce Needs
Benefits of Hiring Our Magento eCommerce Developers
Magento is an open-source eCommerce platform that provides a flexible and scalable solution for businesses to create and manage online stores. Unleash the maximum potential of Magento for your business with our custom Magento Development Services.
Qualified Magento Professionals

Every Magento developer in our team holds high proficiency with Magento technologies. We leverage our years of experience to deliver top-notch solutions.

High Quality

Our focus is always on the quality of work and satisfaction for our customers. We combine our expertise and experience to provide high quality on all Magento projects.

Flexible Hiring Models

Flexible hiring models that can be chosen by the clients to hire our developers according to their requirements.You can hire on a full-time, part-time, or hourly basis.

On-time Delivery

We know the importance of deadlines and launching your eCommerce solutions in the market at the right time. We ensure to deliver the project on time.

Expert Team

Our Certified Magento developers are well-versed with every latest trends and version of Magento platform.

Agile Approach

We adhere to an agile development approach, ensuring regular updates to our clients regarding their project's progress. Thus, it helps us speed up the development process for timely deliveries.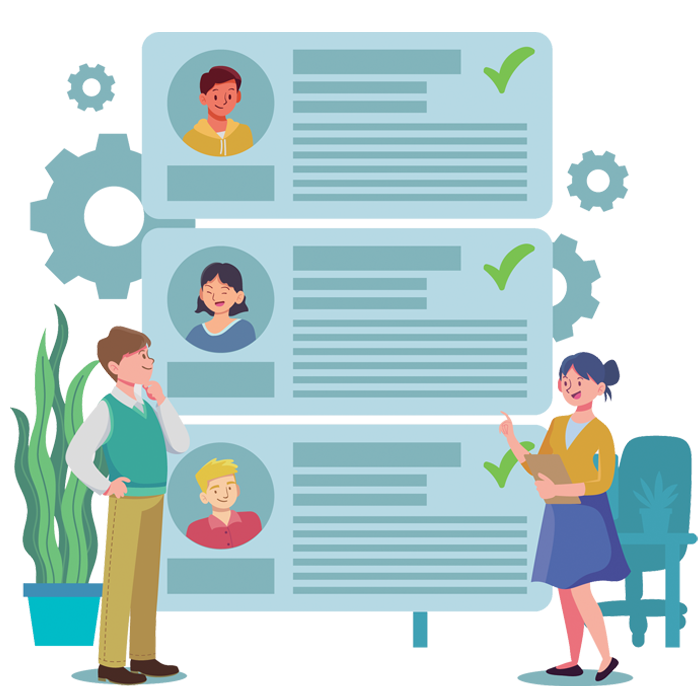 Our Engagement Model
Hiring Magento developers from Mageefy is an effortless process for clients. They can put their project requirements and budget as a priority with our flexible hiring models.
Hire Magento Developer On An Hourly Basis
Starting From
$20/
Hourly (USD)
Hiring a Magento developer on an hourly basis is suitable for short-term or project-specific tasks.
Senior Magento developers will work on your project hourly basis.
Hire us
Most Popular
Hire Magento Developer On Full Time Basis
Starting From
$2200/
Monthly (USD)
Hiring a full-time Magento developer gives you a dedicated resource working exclusively on your project.
Senior Magento developers will work on your project full time basis.
Hire us
Hire Magento Developer On Weekly Basis
Starting From
$750/
Weekly (USD)
Suitable for projects with medium-term requirements or when you don't need a full-time resource.
Senior Magento developers will work on your project part time basis.
Hire us

Ready to take your eCommerce store to new heights with our Magento developers?
Let our Magento experts turn your vision into reality and elevate your online business to new heights! Hire our Magento developers today and watch your business thrive. Get in touch for a free consultation and take the first step toward eCommerce success!